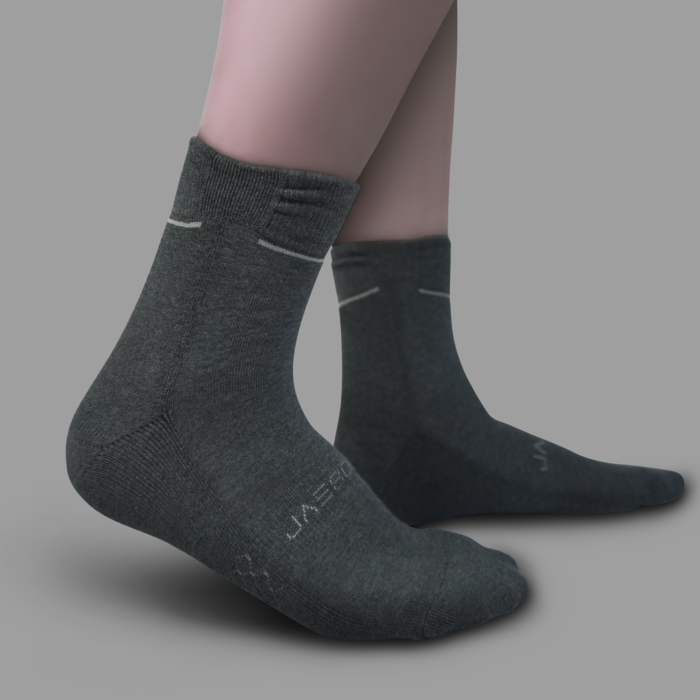 NANO Technology Jaesoul Working Socks
Introducing the ultimate socks for business meetings, corporate offices, and formal events Jaesoul Working Socks!

With extra cushioning for comfort and reduced fatigue, innovative breathable design, anti-microbial to combat unwanted odor and premium spandex for a perfect fit. Don't settle for anything less than the best.

Order your pair of Jaesoul Working Socks today and experience luxury and comfort. Say goodbye to uncomfortable, Loosened socks and hello to the ultimate foot luxury!
Results in wearing Jaesoul Working Socks

No more smelly socks
Super breathable and soft
Comfortable cushion at the sole
No strangle marks
Socks last longer
Material
Nano-Technology Anti-Microbial Cotton
Premium Spandex

Knitting Method
Italy socks knitting machine knit socks with 168 needles at the same time.

Size
Our socks can fit the size below

Package:
Work From Home | 2 Pairs | Rm19.90 / Pair
The Jaesoul Working Socks are ideal for corporate offices, business meetings, or formal events. The socks come with extra cushioning at the bottom, which helps to reduce fatigue and keep your feet comfortable even after long hours of standing or walking.
The breathable design ensures your feet stay cool and dry in warm and humid conditions.
What's more, the anti-microbial properties of the socks prevent unpleasant odors and keep your feet feeling fresh all day long.
The premium spandex used in the design provides a perfect and firm hold on your feet, without causing any discomfort or irritation. Eliminate loose socks that slip down for good.
In summary, the Jaesoul Working Socks are the perfect socks for anyone looking for the best socks for office work or formal wear. They are comfortable, durable, and feature advanced technology to ensure that your feet stay fresh and comfortable, no matter how long you wear them. Order your Jaesoul Working Socks today and feel the difference for yourself.
Nano-Tech Anti microbial
Certification
FIVE PURCHASE ONE DONATE
YOU PURCHASE WE DONATE
FIVE PURCHASE ONE DONATE
YOU PURCHASE WE DONATE
RETURN & REFUND
SOCKS CARE GUIDE
SHIPPING
PRODUCTS INFO